HOME OF 7 AKC MASTER HUNTERS AND 4 AKC SENIOR HUNTERS; INCLUDING THE 45TH AKC SHOW CHAMPION/MASTER HUNTER IN THE HISTORY OF THE BREED.
***PUPPIES***

We are THRILLED to announce that we have bred our Master hunter girl "Luna" and our Senior hunter girl "Daisy".
It looks like both girls are pregnant. I haven't done the ultra sound because I was gone for a week. When I came back I could see their rib cage has expanded a bit and they look thick thru the loin.
To recap, MH Luna was bred to CH-MH Topwater Hidden Springs Yuletide RN.
Lunas sire is GCH-MH Goose, Gooses mom is MH Bonnie.
CH-MH Yuletides mom is MH Bonnie. Since with this breeding Bonnie will be both in the topside of the pedigree and the bottom side...this is a line breeding. Not an in-breeding and not an out cross.
I did this breeding on purpose because Bonnie has been an outstanding producer of beautiful and talented pups out of just 2 litters of 7 and 7.
She is the dam of multiple MH and SH titled kids, all of her pups are outstanding gun dogs but the reason I want to double up on Bonnie...is that she is the dam of 2 AKC GCH-MH boys as well as 1 AKC-Canadian CH-SH boy Ben. Our super girl MH Paris is her daughter. Paris has kids with show points and almost akc show CHs. Several of her babes have their JH titles and several are running and passing the SH tests.
Goose...her son has been an outstanding sire and grand sire as well.
Bonnie will be 13 in Dec. She's not perfect but almost and still going for retrieves and swims everyday. She doesn't have any health issues except for a few small superficial lumps and bumps and a little stiffness in the morn or after her naps. This is a healthy Labrador at her age...especially after the active life she has lived. @ wonderful litters...15 Master Hunter passes. Qualified for the Master National and an outstanding gun dog as well as the perfect intuitive family member.
This is why I'm SO excited about this litter.
I DO think this litter will be very active and will need both mental and physical activity daily. They will want to be as much a part of your family as a human would. This is a very big commitment to one of these puppys.
Please think about what I have said an know for sure that you would be ready for a pup like this.
SH Daisy...our WONDERFUL talented, obsessive, loyal, beautiful girl was bred to GCH Hyspire Mainland Boom Boom Pow. Daisy has produced so many very talented kids. She doesn't need any help from a male to produce naturally talented, trainable pretty pups ....so I decided to breed her to an outstanding conformation boy. "Will" has won just about as good as you can. He's young and already has a very impressive show record winning Best of Breed in several Labrador Specialitys as well as winning 1st place in the sporting group several times....which is huge.!
It also turns out that Will has wonderful natural hunting instincts. This found out by his friend that took him to her pheasant club to just walk around to see what he might do.....He found a wounded pheasant, flushed others and brought back a dead duck killed earlier but left. Very impressive for a "show dog"
I think Will will give Daisy pups a bit more substance (bone) and beautiful heads. I may get a bit shorter coupled pup or 2 in the bunch. This is all just about possible show puppies. I KNOW all will be very field talented as well as the best personal and family loyal Labrador you will ever have in your life.
I do expect this litter to be active as well. This is the type of litters I breed for. Intelligence, naturally talented in the field, beautiful and wonderful family members that will read the situation and respond accordingly....HA, as a non-puppy.
I am picky who does get one of my puppies so please...again, think about what you truly want in a Labrador.
I would like you all to tell me again why a pup from Lunas or Daisy litters would be perfect for your family/home.
I want to assume you all know how important proper housing/kenneling/fencing is for safety of your pup. Playing in the front yard with the kids unsupervised is not an option. Riding in the back of the pick-up is NOT an option. Being left in the car is not an option. being tied to a chain instead of a fenced yard is NOT an option. Being left out in the hot summer or cold winter in a dog house is NOT an option. Unsupervised play/hunting on thin ice is not an option....get my drift?
Thank you all for waiting for this info about the girls. I'm beyond excited about both these breedings. Please feel free to call me with any questions. cell 951-642-1196
The pups will sell for $2500. a $1000 deposit is required to hold a puppy for you. If for any reason you do not want at pup when they are 8 weeks old and time to go home...your full deposit is happily refunded.
I HAVE just done a breeding to our beautiful girl SH Mesa to our Perfect Boy GCH-MH Blue Goose. This has been a breeding I've been waiting to do for 3 1/2 years. I orchestrated the breeding to produce Mesa and her sister MH Covey just to have a super girl to eventually be bred to Goosey.
So if the Luna or Daisy litters don't work out for you there may be a Mesa/Goose puppy for you.
I have never done more than 1-2 litters in a year but all my girls have high end titles both in the field and show ring. They have all the best health clearences an now have reached the age of being Moms or they never will. SOooo...here I go on a big adventure with hopefully lots of healthy beautiful babes!!! Edna
FLASH: GOOSE WINS
9-26-13 BEST OF BREED AT GRAND JUNCTION
7-13-13 BEST OF BREED AT ROARING FORK
7-14-13 BEST OPPOSITE SEX AT ROARING FORK.
AND IS
AN AKC GRAND CHAMPION IN THE SHOW ARENA!
HANDLED TO HIS GRAND CHAMPIONSHIP BY EDNA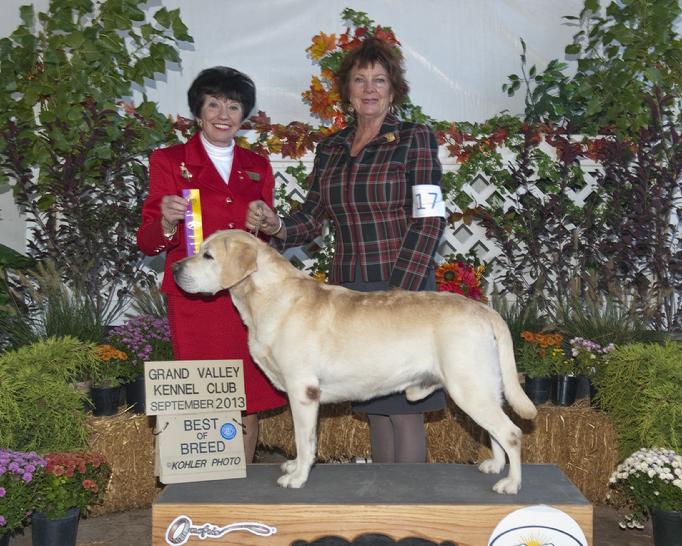 Goose earns his GCH with a best od Breed win
OUR GIRL "COVEY" IS NOW AN AKC MASTER HUNTER WITH HER CURRANT PASS AT BERTHOUD, CO.
6-14 & 15-'14.
SEE HER UNDER OUR GIRLS.
GOOSE SON: QUINCY EARNS HIS AKC MASTER HUNTER TITLE 5-14. CONGRATULATIONS !
FLASH: GOOSE DAUGHTER "CASH" EARNS HER AKC MASTER HUNTER TITLE. 7-6-13.
FLASH: DAISY'S SON; HIDDEN SPRINGS SUNDANCE ON THE WATER HAS EARNED HIS AKC MASTER HUNTER TITLE 5-26-13
FLASH: GOOSE DAUGHTER "LUNA" EARNS HER AKC MASTER HUNTER TITLE 5-12-13
CH TOPWATER HIDDEN SPRINGS YULETIDE MH RN
see him under Bonni's 2nd litter
"DECKER" IS OWNED BY JEANNE COLLIER
http://www.topwaterlabs.com
BRED BY HIDDEN SPRINGS, TRAINED BY EDNA
GRAND CHAMPION HIDDEN SPRINGS BLUE GOOSE
MASTER HUNTER, RN



WELCOME, WE ARE LOCATED IN COLORADO ON THE WESTERN SLOPE OF THE ROCKIES, IN LOMA, NEAR GRAND JUNCTION, COLORADO. OUR GOAL IS TO BREED ENGLISH STYLE LABRADOR RETRIEVERS THAT HAVE GREAT TEMPERAMENT, EXCELLENT CONFORMATION, AND THE NATURAL TALENT TO PERFORM; IN THE FIELD, AS A WATER DOG, HUNTING DOG, OR DO HUNT TESTS. OUR DOGS ARE THE PERFECT FIT FOR YOUR FAMILY.
OUR GIRL MACY, A SHOW BRED MASTER HUNTER STARTED IT ALL.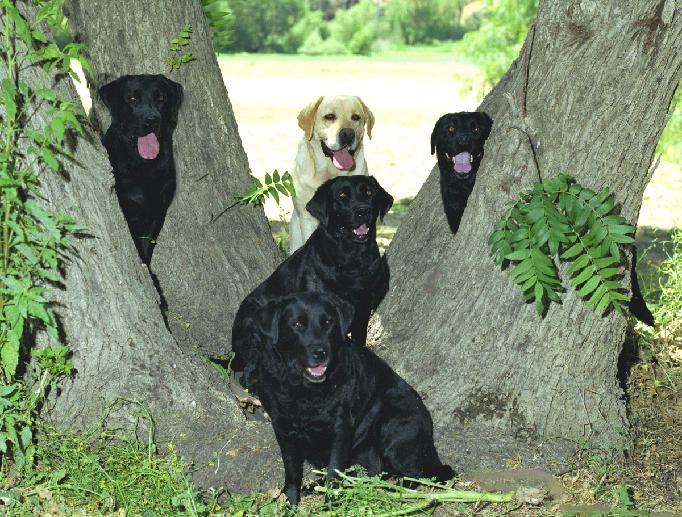 FAMILY TREE
CHERRY OAKS MACYS GOT IT ALL MH, OUR FOUNDATION BITCH, IS THE DAM OF HIDDENSPRING VERY KERRY BONNI MH; HIDDENSPRINGS FIELD OF GOLD MH "DRAKE", THE QUIET MAN TROOPER MH, AND HIDDEN SPRINGS DISCO MILLY SH. THESE FOUR ARE SIBLINGS OUT OF MACY'S ONLY LITTER OF SIX.
EDNA AND PAUL SCHENCK

LOMA, CO
951-642-1196 970-858-1715